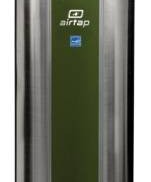 Would you like a new water heater that is more efficient than the standard water heater?
The AirTapTM Hybrid water heater can reduce the electricity consumption by at least 50% over a standard water heater. It does this by being able to extract ambient air from the room where the water heater is located and using that air to provide efficiency. In addition, this water heater is an ENERGY STAR® approved product, making it eligible for rebates and tax credits.
Alpha Builder Corporation is also a Certified Installer of the AirTapTM Hybrid water heater; give us a call if you have any questions.