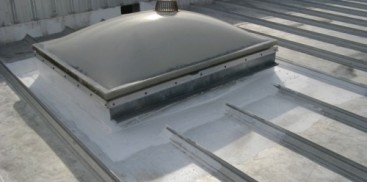 Prolong the life of a metal roof–Seal just the seams or the entire surface!
Inland Rubber Roof Coating provides a cost effective solution for many of today's roofing problems.
RC-2000's added protection reduces costly patching and expensive reapplications and has high resistance to acids, alkali and salts. It is thermally stable and is unaffected by temperature changes. It exhibits excellent abrasion resistance and superb adhesion to a wide variety of surfaces.
Energy Efficient
Seals and Waterproofs
Superior Weatherability
Excellent Adhesion
Fire Resistant
Here are before and after pictures of a commercial building we are repairing. The first picture shows that the roof was starting to rust and consequently, was also starting to leak. The second picture shows what the sealant looks like, after it has been applied and dried.